Sell Me Nothing
2018
To deepen my appreciation of a topic through research, analysis, and synthesis


---
---

With this project I want to highlight my conceptual thinking and research process. Focusing on a topic we all believe to do quite a lot of, nothing or nothingness, I created a set of packages that ask consumers to be more coherent in their choices.

How do you quantify nothing? Is it even possible? Well, my way of answering this existential question, is to break it down into five smaller more comprehensible parts, the human senses. I surveyed over 100+ people using a various research collection methods, and used their responses to answer my question.




Each package has a cautionary warning on the label that oppose the nothingness of the contents, by warning against a deafening sound or pungent taste expelling from the boxes.

The intent of the packages is to spark a conversation about what we buy, and how much of it is nothing? Is propaganda? Isn't value for our capital?


---
---

Considering there is nothing inside of the box, I want to keep the package simple so that it minimizes material waste. I start with creating die-cut patterns to test the general design and form.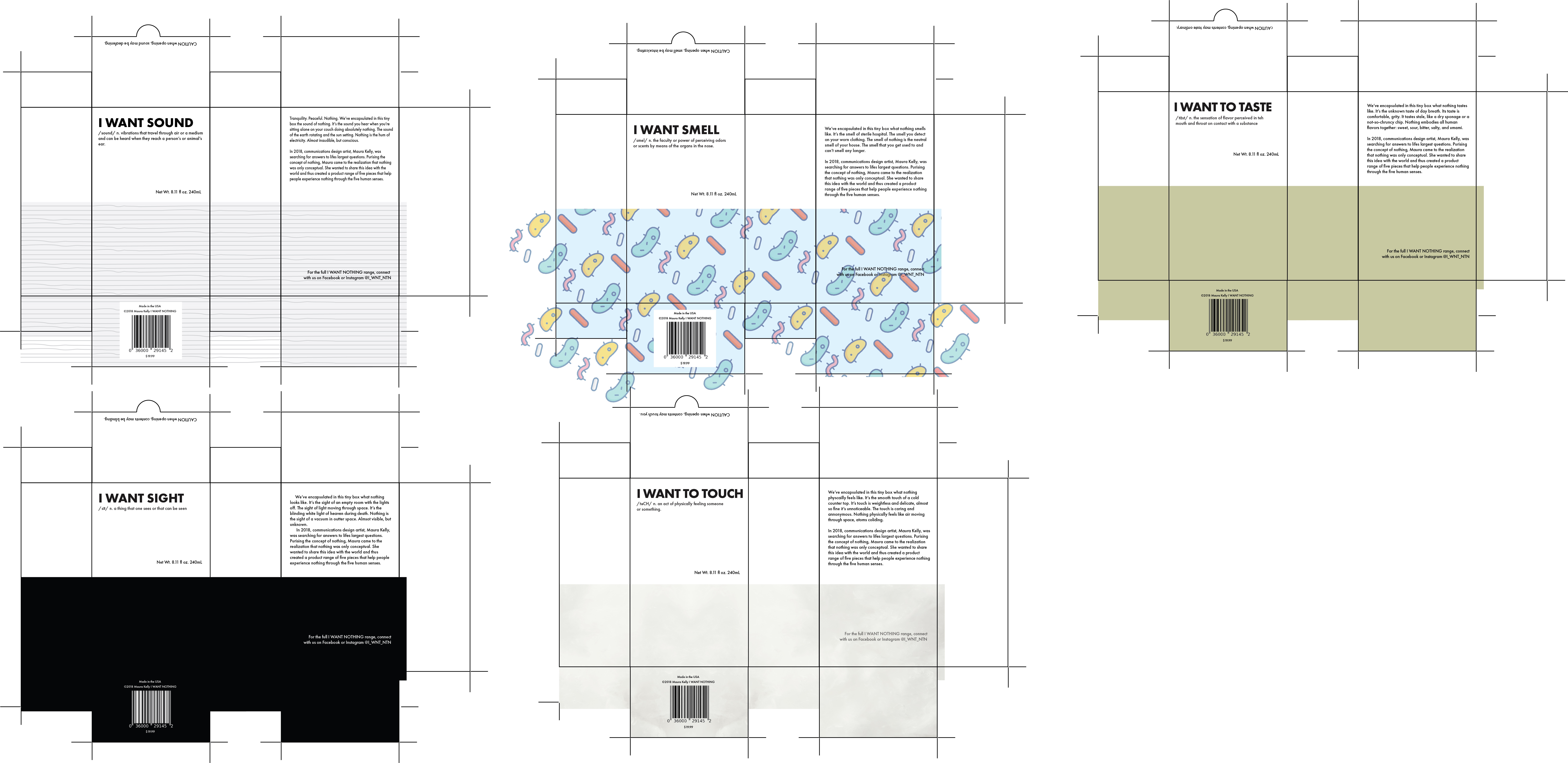 Printing on card stock, I want to test the durability of the box. I am using medium weight, 70 lb card stock. While the structure seems solid the type is way too small on the box face, and the card stock doesn't fold well even with a bone folder.




Package prototypes to test type scaling and durability



Testing package prototypes of various materials, trying to be transparent about the contents of the packages (quite literally nothing).

I decided to combine the two packages. I prefer the acetate boxes because they show the contents of the box, but they are really difficult to read and understand. Whereas, the window cut-out gives the same effect, while making the packages sturdier.

For more information about this project or other examples of work, check out my professor's website.