Virtual Campus Tour (for Pratt Institute)
2022
Create a virtual tour for the Office of Admissions that mimics and expands their in-person tour experience.
---
PHOTO/FILM PRODUCTION, PROJECT MANGEMENT, IMPLEMENTATION
---

The tour was produced by EAB for Pratt Institute. Please click here to visit the live tour. Below are screen captures that highlight variety of media captured, such as integrated videos with 360 images, student work slideshows, and supplemental materials



The tour access link is implemented on the official school website "Visiting the Brooklyn Campus" page. See highlighted text in the below image, and to view the full webpage please click here.

---
PHOTO/FILM PRODUCTION, PROJECT MANGEMENT, IMPLEMENTATION
---

This was a project undertaken by Pratt Institute's Office of Admissions' small creative subset, which was composed of two hybrid Admissions Counselors/Creative Content Managers, our Director of Admission Recruitment, and our Associate Vice President of Enrollment Management.

Having graduated with a creative degree, previous experience as a Pratt tour guide and Admissions Counselor, I was brought onto the team a third of the way through the project to assist with the production and delivery of the product.

I was a part of the pre-planning committee, was responsible for the on-site photo capture and staging, and worked as a liaison between the Office of Admissions and EAB and as a liaison between the Office of Admissions and all the Pratt departments in terms of scheduling and gathering supplemental material.

For more information about this project and/or questions about my direct contributions, please feel shoot me an email!

Mishap(py) Accidents
2020
Curate and design Gallery House DDGTA's first online exhibition
---
---

Mishap(py) Accidents is available online from January 2, 2021 at 12pm est, until December 31, 2021 at 12am est.

This gallery show was created as part of my internship with Gallery House DGTAA. There were three interns, including myself, and we worked together to curate, promote, and create Gallery House's first virtual exhibition, Mishap(py) Accidents.



This is the landing page for the website, that houses the main logistical information for the show.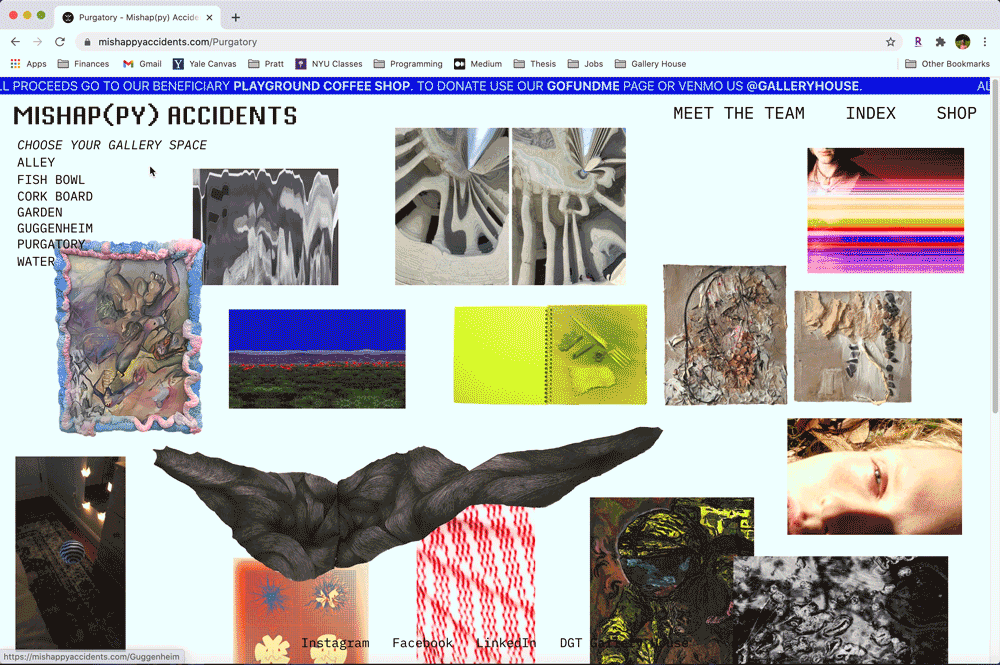 This is the introductory gallery page, where users can move the pieces around, change their background, and enlarge the images to create their own experience.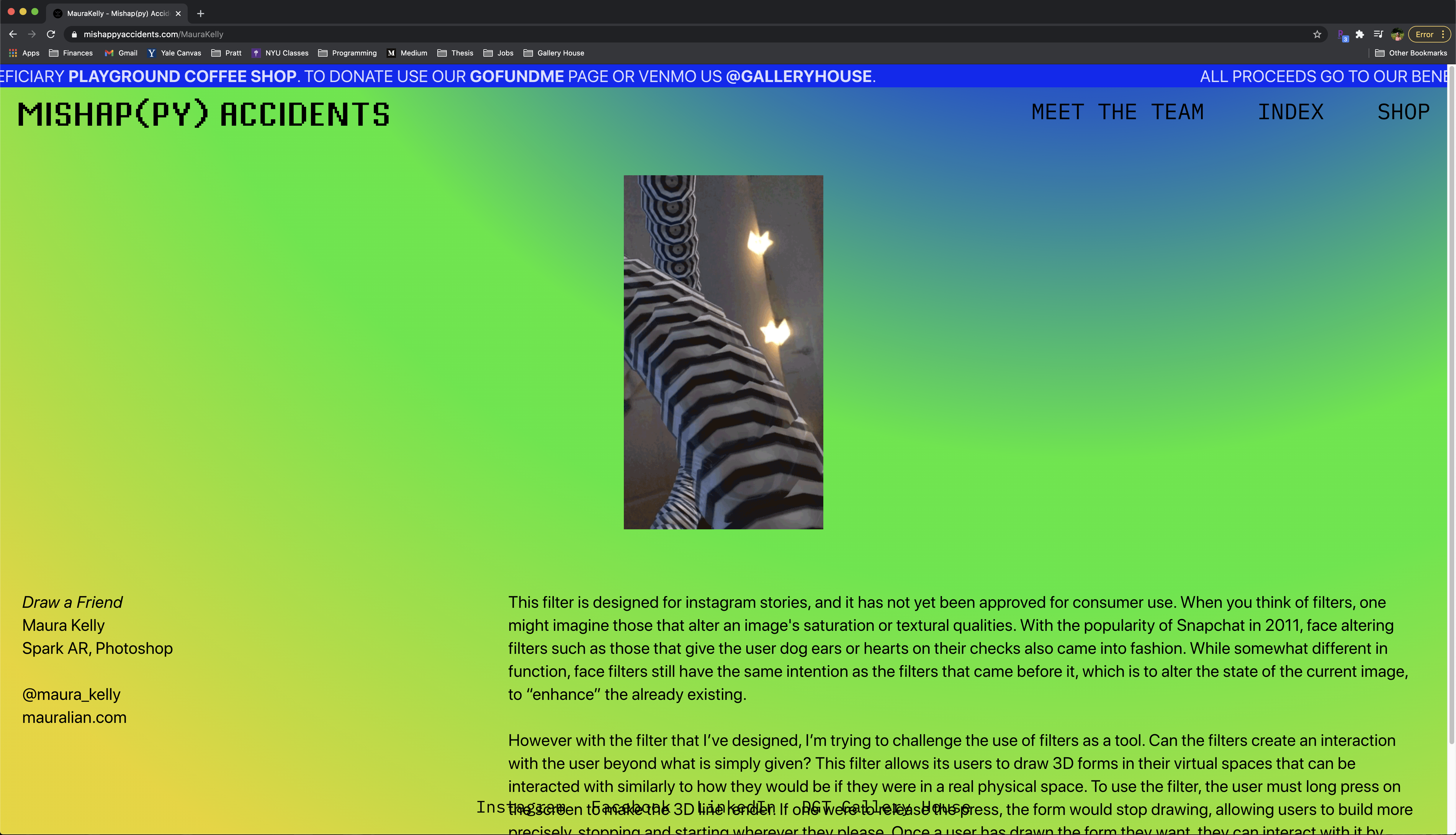 Each artist has their own page dedicated to showcasing their work, artist statement, and contact information. The individual artist pages can be accessed from the index page.


---
---

My role as an intern was to create the website in which the exhibition will be hosted. I designed the layout and flow of the website, while the other interns handled the event promotion.

Other Contributors/Interns:
Baliey Kirshner
Matthew Kim

WeVo Mobile
2020
Create an app that improves the voting experience


---
---

Voter turnout has become a serious problem in today's highly polarized political environment. Wevo is geared towards youth with a more contemporary way to consume and educate the voting population, and offers users the option to skip the polling lines when they register to vote/link their id number.



A large reason polling turnouts have decreased is because of the anxiety around voter suppression and intimidation. Wevo has a report function built into the polling location pages where users can report problems and rate their experience.




Choosing the right candidate isn't always clear cut, but wevo can help weigh what issues are most important to you. In turn, helping you find the candidate that aligns best with your ideals




---
---

Starting with a user flow chart, I mapped out the architecture of the app and all the possible user journeys.




Using the flow chart, wireframes for each page and subpage of the app were created.



Once all the pages were designed, a new user flow chart with thumbnails was created to tighten up the design flow.



The most tedious, but exciting part. Using after effects the interface interactions were created to help understand the prototype's functionality.


Translating Relationships
2020
Create self-initiated work around translation/exchange that doesn't involve monetary values


---
---


Translating Relationships is used to provoke conversation between both parties of a relationship. Inspired by luggage tags and achievement badges, I created a set of five postcards and five digital stickers than can be used to label punitively label your relationships.

The use of letter grades is a criticism of the harsh pressures students in 2020 face. Sadly even after 12+ years of education, college is of no exception of the anxiety-ridden institutional grading system. At times, grading, especially in an artistic field, feel more like a ranking of personality or presentation than of the work and effort.



Front and back sides of the postcard set. Each postcard is 4'' x 6''



Disclaimer to my friends: the ratings used on these photos do not accurately represent my perception of our friendship, they have been labeled simply for mockup purposes.

A sampling of how the sticker iterations are intended to be used on images. The stickers are supposed to elict the same uncomfortable feeling of the penal American grading system. There are two versions of each of the stickers (black and white, both types are shown at least once in the above mockups).


---
---

This project was birthed out of an archive I started a few months ago, when I decided I'd translate a very non-physical attribute into a tactile/utilitarian form.



Taking all the digital data I had of a person and using that as my only representation of them, I archived their entire being into a single folder—containing Rich Text Formats (RTFs), photos, videos, audio, anything correspondence I had between them and myself—on my desktop.




Thinking about representation, a postcard was created to "undo" the digital translation I had previously created when the file on my desktop was created. The postcard is symbolic of the entire relationship, the entire being, bottled into a single sendable artifact.

Applying various analytic tools to the folder, the most frequented words and phrases, number of photos, total days of "friendship," and number of messages sent were calculated. The data was divided into five varying degrees of relational classes (A,B,C,D,F) that mimic the typical American grading system.
Glass Onion
2020
Using lyrics from a Beatles song, design three packages for products inspired by the line(s)


---
PACKAGE DESIGN & BRANDING
---
Glass Onion is an updated geocaching

service

for creatives, guaranteeing quality "skin"/caches each time. Unlock unique design tools with benchmark achievements.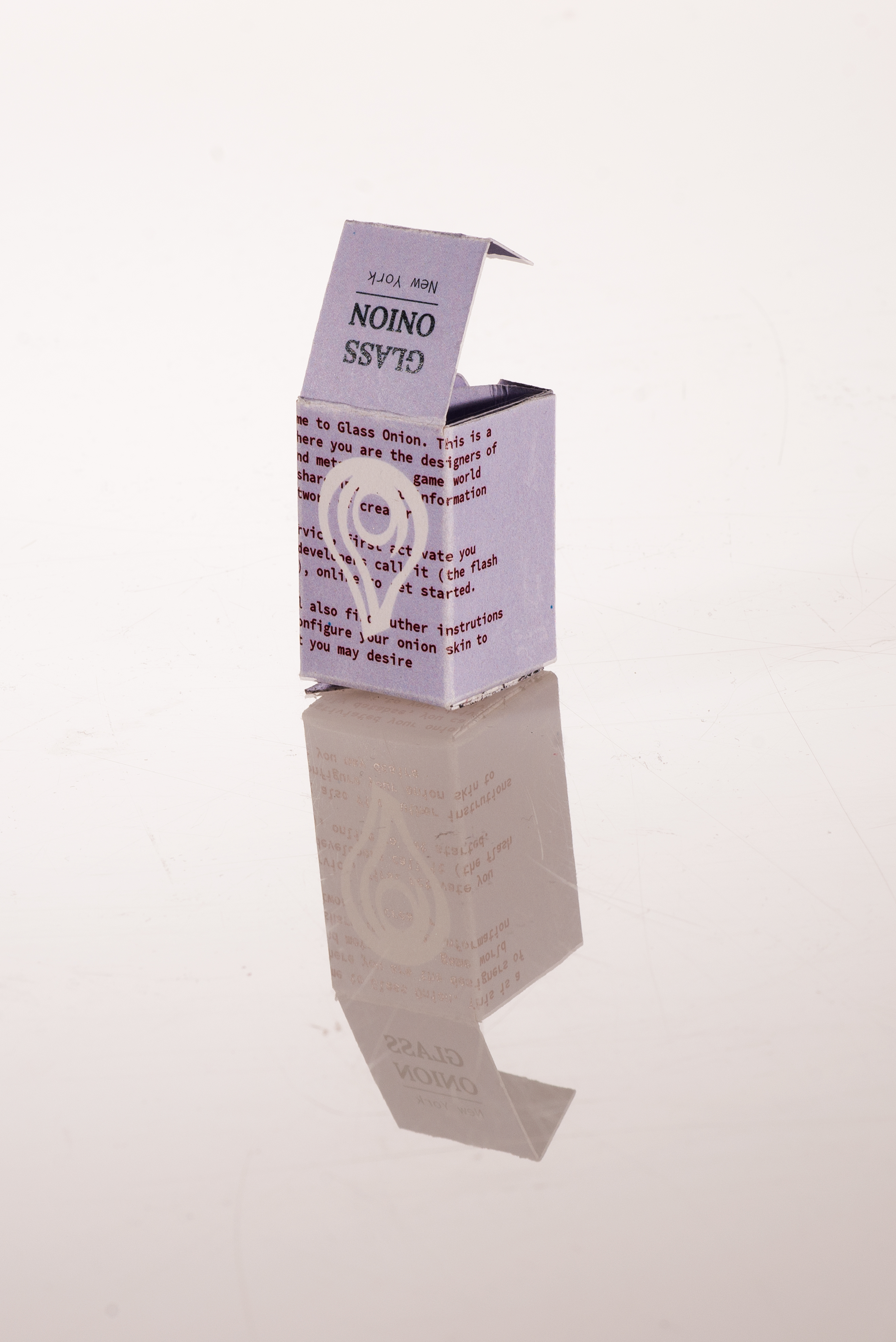 Left: a USB to lightening dongle accessory available for purchase to make Onioning (nickname) more efficient Right: An Onioning starter pack (flash drive) for users to create their own onion skin locations in the database. Instructions are written on the inside packaging to economize space and waste

Glass Onion is different from traditional geocaching, in that instead of getting caches each hunt resolves in the treasures stored on a flash drive. Each flash drive is referred to as a "skin," so with each skin the user collects the closer they get to creating an entire onion, which results in various user achievements unlocking. The service is a transfer of information and design tools between users. With using flash drives the goal is to better incentivize people to use the service and build a network of universally accessible tools.




An advertisement display used to model the products in retail stores. The products would be shelved below the display. It is modeled off of drugstore cosmetic displays.

The app in which users will catalog their onion skins (caches) is currently in production. Email if you have any questions, I'd love to discuss the product.


---
PACKAGE DESIGN & BRANDING
---
Researching the current market and user experience was pivotal to the overall functionality and believability of the products. In spirited fashion, I gathered some friends and went out to test the most popular geocaching service, figuring out what works and what needs improved.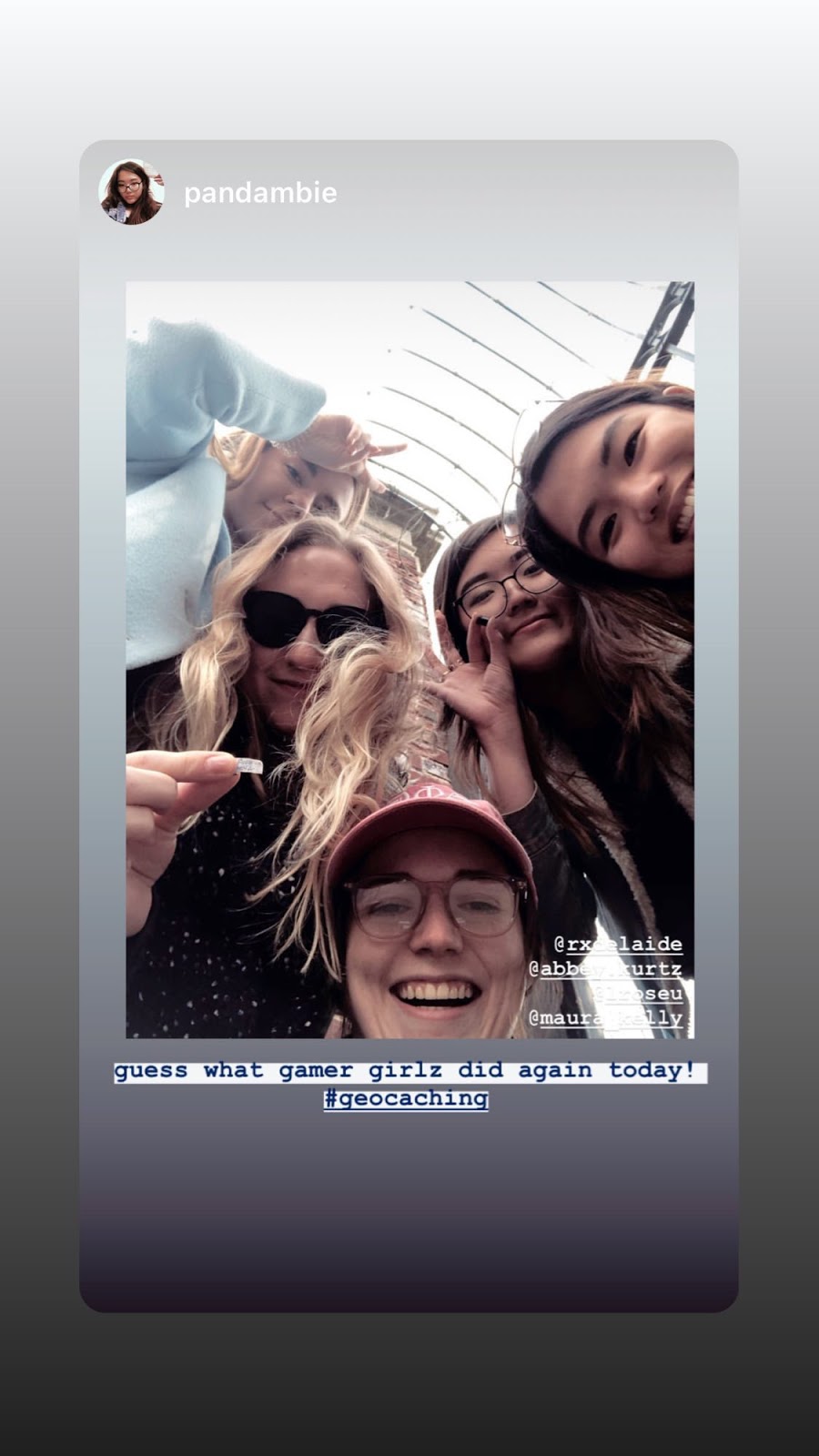 Left to right: geocaching supply duffle compiled by a veteran geocacher, first geocache found (underside of middle rail, near upper left of the circle gate), picture with first geocache and friends

My first step to designing the line of products is to develop a brand identity to help guide the visual identity of the packaging and any other branding collateral.

Logo sketches that embody both the name and the brand's service



Die-cuts of the main flash drive package, color palette pulled from a combination of Beatles, glass, and onion images.

When trying to emulate the essence of an onion, materiality and color palettes are crucial to the perception of the brand. I experimented with many tactile and digital textures, culminating in the use of bubble wrap, mylar, acetate, card stock, and thread for the final packages.